When the founders Lily Miesmer and Jack Miner of fledgling New York-based label Inside had been conceptualizing their Spring '23 assortment, they discovered inspiration in Jane Eyre, the novel by Charlotte Brontë. The strong-willed protagonist carried little favor for the creatives, nor did her rugged love curiosity. As a substitute, they honed in on the misunderstood lady Mr. Rochester stored locked away in his attic. "We relate to her and the way misrepresented she was," says Miesmer. They obsessed over this concept of decay in her psychological state—and her evening gown.
They personified this concept in a white, virtually monastic floor-length shirt gown, "a surrealist nightgown" as Miner calls it. The impact is someplace between asylum escapee and dependable patron of The Row. The designers additional massaged the thought of a shirt gown in mentioned look's runway predecessor by tacking up the hemline and reimagining the development. "I feel for us there's at all times one thing somewhat flawed with every part we make," says Miesmer. "So if retailers love a cute little poplin gown and if ladies love that and if I like that as a lady, okay. However we'll make it backwards and we'll give it 4 arms so it may be worn with the arms tied up, or with the arms tied down," she continues. "It seems like this cool deflated octopus."
Inside co-founders Jack Miner and Lily Miesmer of their midtown studio.
The kindred spirits and co-founders met in eighth grade math class. "We had been at all times actually focused on the identical shit," says Miesmer. In highschool, they bonded over a shared love for Brett Easton Ellis, Kathy Griffin's My Life on the D-Record, and a mutual distaste for his or her suburb in New England—the kind of stuff "suburban children are so usually into however actually should not be," Miesmer clarifies. The perfect buddies "fell in love" to the tune of Fireworks by Animal Collective. It was "basic teen angst," explains Miner of their harmless nihilism. Some twenty years later, they needed to create one thing that may spark the identical feelings as these high-school-era artwork types. And so they needed to do it collectively.
After years within the style trade (Miesmer started with a fast stint within the editorial world then onto advertising, Miner in style VC then operations at Bode), they birthed Inside in 2020. When it began, the model wasn't a lot about product within the fill-a-gap-in-the-market sense. The 2 creatives tried to channel their shared ethos into the type of clothes, Miesmer explains of their "tremendous villain origin story." Fortunately, they like—and hate—all the identical issues. "In a showroom, we'll meet Girl within the Tramp pasta-noodle-style on the identical cloth," she laughs.
Primarily, Inside exemplifies their very own style, which they hone additional each season. "This angst-y, nostalgic-feeling, emotional cost by means of our friendship and our bond and our love for each other naturally comes out within the model by nature of once we first got here collectively," muses Miner. "If we had met in our mid twenties, it simply would not be there."
"In a showroom, we'll meet Girl within the Tramp pasta-noodle-style on the identical cloth," Miesmer says of their shared preferences.
"There's one thing very nice about being in an area that basically appears like a illustration of who you're," says Miner.
"Style is commonly so about having this iron clad face that you simply current to the world and this bulletproof sense of aesthetics," says Miesmer. "Usually, I dress and I am like, 'you seem like shit.'"
Initially, they experimented with "extra cautious, earnest components," however with "a variety of the off-kilter stuff that we actually love," Miesmer displays. Assume a piece-y jacket impressed by armor that appears as if ribbons are barely holding the material collectively or a corseted blue gown whose silhouette seems bodily twisted. This previous season felt a bit extra refined, a bit much less candy. "The gathering was actually probably the most me that we would ever made," says Miesmer of what I perceived as a complicated older cousin of the Indie Sleaze motion. "I used to be lastly gloves off, simply selfishly designing for myself." Miner continually deferred to Miesmer as not solely the knowledgeable in minute product particulars, however the knowledgeable in a lady's strategy to getting dressed.
"I gown like shit," she laughs. "It is crucial to decorate like shit." Miesmer describes The Row as "monastic," "hilarious," and "value each penny." She loves Outdated Cèline, Margiela, and Issey Miyake. She buys pants too massive and rolls the waistband—a behavior she attributes to the Soffe shorts she wore as a tween. After we visited Inside's studio, the designer was wearing gray sweatpants, an Inside button down, and dainty ballet slippers—the footwear of selection for his or her most up-to-date style present.
"Regardless that it is solely 4 years of our lives, highschool felt like this ocean of time the place you had been simply actually working by means of issues. It fortified such a robust bond between the 2 of us. These two individuals who felt so like-minded coming collectively and dealing by means of the complexity of being alive and rising up," says Miner.
A glimpse of their Spring '23 assortment.
"It is not all excellent style. Typically it is dangerous style," Miner posits. "What could possibly be extra boring than excellent style?" He grew up a Connecticut lax bro coming to phrases together with his sexuality. "I used to be deeply closeted and really a lot so posturing as your basic New England athlete." Do not be fooled although; Miesmer assures me he discovered methods to eek in his personal style with cool particulars, albeit subtly. The excessive schooler may put on a classic polo or a torn nation membership t-shirt. On this similar method, he and Miesmer like to evenly "fuck up" their designs.
They describe their garments as sexual, even perverse, a notion Miesmer explains in a narrative from a current design assembly by which Inside's head of design summed up what they imply after they use the latter descriptor. She identified that girls are so usually othered, notably within the office, they usually take care of this very grotesque factor that occurs universally as soon as a month. Miesmer continues, "all through most of our life expertise, there's usually a variety of gore and a variety of anger and a variety of surrealism," so she laughs when male designers appear to redact womanhood down to 2 ideas: softness or energy. In her garments, she makes an attempt to "give credit score to ladies for being the freaks that we so usually are."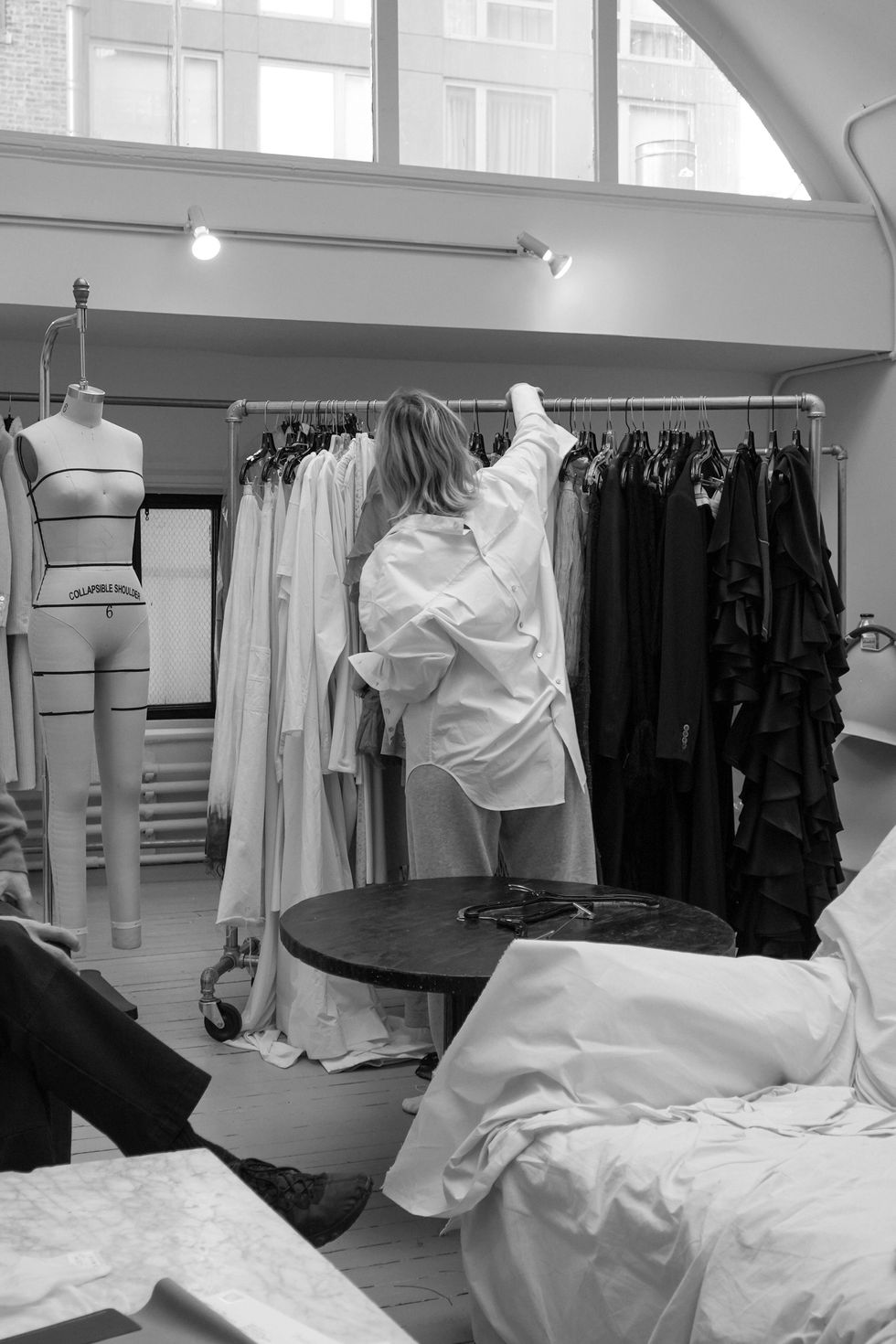 The Spring '23 assortment hangs of their studio.
Their course of for design is very collaborative, emphasizing each discovery and emotion.
For Spring '23, the Miesmer and Miner drew upon Martin Scorsese's The Pink Sneakers along with Brontë's gothic hysteria. "I liked how in The Pink Sneakers, as she dances and dances and dances, her garments and her ballet costume changing into more and more tattered and all fucked up and coated in ash," Miesmer explains. This obsession takes the type of a dip-dyed, frayed ballerina skirt they paired with an unraveling sweater and, after all, ballet flats. The outcome seems like a Degas dancer who traipsed by means of a muddy forest.
At present, that assortment hangs in their very own attic house, the place we sat for our interview. Six months in the past, their staff of six moved right into a white-washed workplace that sits on the highest ground of a constructing in New York's garment district. Now a inventive haven, the house used to function a small theater venue. "There's one thing very nice about being in an area that basically appears like a illustration of who you're," says Miner, earlier than Miesmer provides, "We're little dolls in our loopy Victorian dollhouse up right here."
Lounging upon the blanched couches, our dialog pendulates between tangents about gory menstruation and the displaying of foolish duck memes they ship to one another. Extra usually although, the attic studio is an area to channel their very own inventive Brontë-esque insanity, whether or not that entails taking a metal brush to Italian linen mere days earlier than a style present or screening a Fellini movie for inspiration after admittedly self-prescribing somewhat an excessive amount of DayQuil. Fortunately, giant home windows and a skylight maintain their hideaway feeling gentle and vibrant—and everyone seems to be free to come back and go as they please.
window.REBELMOUSE_ACTIVE_TASKS_QUEUE.push(function(){
var makeMonitor = (getStatus, cb, delay) => { delay = delay || 100; var monitor = () => { var time = +new Date(); var status = getStatus(); if (status) { return cb(status); } else { if (!stopMonitor && +new Date() - time < 30 * 60 * 1000) { monitorId = setTimeout(monitor, delay); } else { cb(false); } } }, cancel = () => { stopMonitor = true; clearInterval(monitorId); }; let monitorId, stopMonitor = false; return { start: monitor, cancel: cancel, }; };
var leftArrowCarrousel = makeMonitor( function () { return document.querySelector( ".shop-sidebar.shop-posts .posts-wrapper .slick-next" ); }, function (res) { res.addEventListener("click", () => { gtag("event", "Left Arrow Click", { event_category: "Shopping Module", event_label: "Previous product at carrousel", }); }); } );
leftArrowCarrousel.start();
var rightArrowCarrousel = makeMonitor( function () { return document.querySelector( ".shop-sidebar.shop-posts .posts-wrapper .slick-prev" ); }, function (res) { res.addEventListener("click", () => { gtag("event", "Right Arrow Click", { event_category: "Shopping Module", event_label: "Next product at carrousel", }); }); } );
rightArrowCarrousel.start();
var buyButton = makeMonitor( function () { return document.querySelectorAll( ".shop-sidebar.shop-posts .posts-wrapper .widget__product-buy-link-btn" ); }, function (res) { for (let button of res) { button.addEventListener("click", () => { gtag("event", "Buy button click", { event_category: "Shopping Module", event_label: `${button["href"]}`, }); }); } } );
buyButton.start();
var imageShopp = makeMonitor( function () { return document.querySelectorAll( ".shop-sidebar.shop-posts .posts-wrapper .widget__head a" ); }, function (res) { for (let image of res) { image.addEventListener("click", () => { gtag("event", "Image click", { event_category: "Shopping Module", event_label: `${image["href"]}`, }); }); } } );
imageShopp.start();
var productTitle = makeMonitor( function () { return document.querySelectorAll( ".shop-sidebar.shop-posts .posts-wrapper .widget__headline .widget__headline-text" ); }, function (res) { for (let product of res) { product.addEventListener("click", () => { gtag("event", "Product title click", { event_category: "Shopping Module", event_label: `${product["href"]}`, }); }); } } );
productTitle.start();
});
window.REBELMOUSE_ACTIVE_TASKS_QUEUE.push(function(){
window.REBELMOUSE_STDLIB.loadExternalScript("https://s.skimresources.com/js/150311X1615657.skimlinks.js", function() {
});
});
window.REBELMOUSE_ACTIVE_TASKS_QUEUE.push(function(){
let modDate = new Date (document.querySelector('.current--post .social-date-modified__text').textContent); let createDate = new Date (document.querySelector('.current--post .social-date__text').textContent); let m_names = new Array("January", "February", "March", "April", "May", "June", "July", "August", "September", "October", "November", "December");
function dateToMDY(inputDate) { var d = inputDate.getDate(); var m = inputDate.getMonth(); var y = inputDate.getFullYear(); return '' + m_names[m] + ' ' + (d <= 9 ? '' + d : d) + ', ' + y ; } document.querySelector('.current--post .social-date-modified__text').innerText = dateToMDY(modDate); document.querySelector('.current--post .social-date__text').innerText = dateToMDY(createDate); }); window.REBELMOUSE_ACTIVE_TASKS_QUEUE.push(function(){ !function(f,b,e,v,n,t,s){if(f.fbq)return;n=f.fbq=function(){n.callMethod?n.callMethod.apply(n,arguments):n.queue.push(arguments)};if(!f._fbq)f._fbq=n;n.push=n;n.loaded=!0;n.version='2.0';n.queue=[];t=b.createElement(e);t.async=!0;t.src=v;s=b.getElementsByTagName(e)[0];s.parentNode.insertBefore(t,s)}(window, document,'script','https://connect.facebook.net/en_US/fbevents.js');fbq('init', '1248680838922690');fbq('track', 'PageView'); }); window.REBELMOUSE_ACTIVE_TASKS_QUEUE.push(function(){ window.REBELMOUSE_STDLIB.onElementInViewport({ threshold: 400, selector: "video", oneTime: true, onIntersect: function(entry){ var element = entry.target; element.setAttribute("allow","autoplay"); element.loop = true; element.muted = true; element.autoplay = true; element.setAttribute("playsinline","true"); //element.controls = false; element.play(); } }); }); window.REBELMOUSE_ACTIVE_TASKS_QUEUE.push(function(){ let headings = document.evaluate("//p[contains(., 'Want more stories like this?')]", document, null, XPathResult.ANY_TYPE, null ); let thisHeading = headings.iterateNext(); console.log(thisHeading.textContent, 'head changed'); thisHeading.innerHTML = "More From Coveteur"; thisHeading.style.fontFamily= 'Playfair Display'; thisHeading.style.fontSize="24px";
});
window.REBELMOUSE_ACTIVE_TASKS_QUEUE.push(function(){
IcreateElementChangeListener('.shop-posts .widget__headline-text', (el)=>{
el.setAttribute("rel","nofollow");
});
});