It's a testomony to the ability of non-public fashion when an outfit can launch as a lot buzz as a brand new film (or a little bit of salacious habits). Take into consideration your Instagram feeds across the time of the Met Gala or the Cannes Movie Competition (sure, it is greater than only a purple carpet). Had been you extra within the tangled internet the characters of The White Lotus weaved? Or the absurd sartorial decisions they made? Should you, too, fall into the latter college of thought, we've rounded up the fashion moments that infiltrated the cultural discourse on a grand scale beneath.
Timothée Chalamet (Backless) in Cannes
Picture: Elisabetta A. Villa/Getty Photographs
Crimson carpets are sometimes proof of the slim lane that the state of males's formalwear occupies. Hollywood's main lads (and their stylists) are continually edging the boundaries additional and additional, however appears to be like like this crimson backless Haider Ackerman ensemble Timothée Chalamet donned on the Cannes Movie Competition premiere of Bones and All took us to a brand new stage of sartorial inspiration.
Rihanna's New Take On Maternity Put on
This 12 months, Rihanna modified the panorama of maternity fashion—endlessly. She kicked off the 12 months by debuting her (naked) full stomach alongside a pink Chanel puffer jacket and bejeweled physique chains. Ever since, she's experimented with sheer lingerie, midriff-baring crop tops, and flashy outerwear (typically left open, after all), proving that bumps shouldn't be shrouded however celebrated within the style vernacular.
Portia's Divisive Apparel on The White Lotus
Picture: Courtesy of HBO
HBO's The White Lotus dominated the cultural dialog of 2022's fall season. Everybody's favourite character to hate, Portia, occupied her fair proportion of the discourse, primarily because of her rotation of quirky outfits. Costume designer Alex Bovaird has used this controversial character's ensembles as cultural commentary on the absurdity and leisure issue of Gen Z fashion.
The Many Lives of the Miu Miu Mini
Picture: Vanni Bassetti/Getty Photographs
Sure, that Miu Miu mini skirt technically debuted on the Spring '22 style week in 2021, however the fallout the excessive hemline left in its wake lasted effectively into 2022. With moments starting from Nicole Kidman's Self-importance Truthful cowl to a number of purple carpet appearances to the barrage of equally dressed Miu Miu showgoers, Miuccia Prada's design left its mark on the style discourse this 12 months.
An Icon References An Icon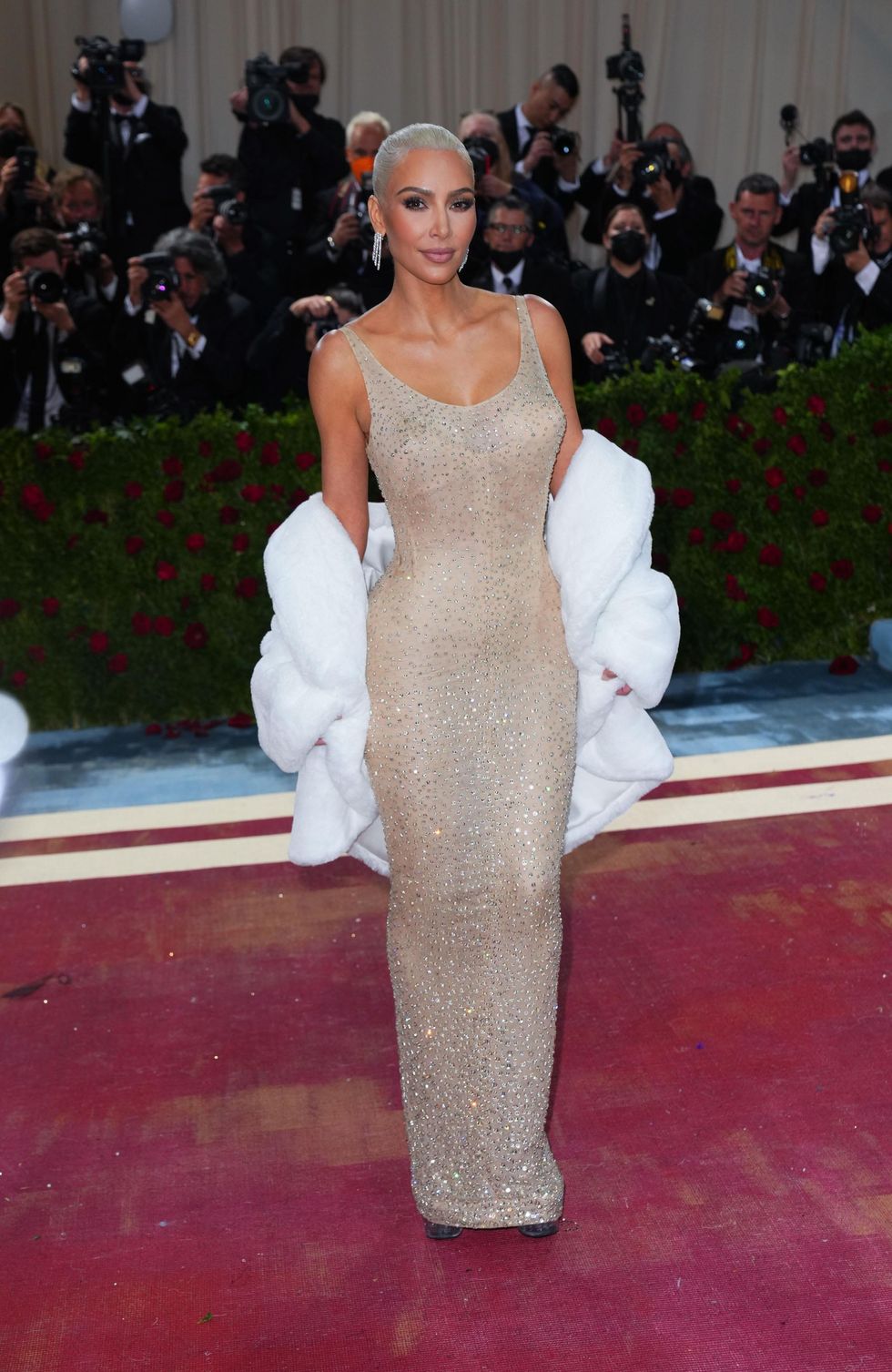 Picture: Gotham/Getty Photographs
No matter whether or not you have been for or in opposition to it, Kim Kardashian sporting Marilyn Monroe's costume (title two greater icons of their respective eras) for this 12 months's Met Gala raised a variety of fascinating questions on referential style. What's the worth of a historic reference? How vital is the preservation of mentioned style? Must you alter your self for garments? This selection left heaps to unpack—and that, the web did.
window.REBELMOUSE_ACTIVE_TASKS_QUEUE.push(function(){
var makeMonitor = (getStatus, cb, delay) => { delay = delay || 100; var monitor = () => { var time = +new Date(); var status = getStatus(); if (status) { return cb(status); } else { if (!stopMonitor && +new Date() - time < 30 * 60 * 1000) { monitorId = setTimeout(monitor, delay); } else { cb(false); } } }, cancel = () => { stopMonitor = true; clearInterval(monitorId); }; let monitorId, stopMonitor = false; return { start: monitor, cancel: cancel, }; };
var leftArrowCarrousel = makeMonitor( function () { return document.querySelector( ".shop-sidebar.shop-posts .posts-wrapper .slick-next" ); }, function (res) { res.addEventListener("click", () => { gtag("event", "Left Arrow Click", { event_category: "Shopping Module", event_label: "Previous product at carrousel", }); }); } );
leftArrowCarrousel.start();
var rightArrowCarrousel = makeMonitor( function () { return document.querySelector( ".shop-sidebar.shop-posts .posts-wrapper .slick-prev" ); }, function (res) { res.addEventListener("click", () => { gtag("event", "Right Arrow Click", { event_category: "Shopping Module", event_label: "Next product at carrousel", }); }); } );
rightArrowCarrousel.start();
var buyButton = makeMonitor( function () { return document.querySelectorAll( ".shop-sidebar.shop-posts .posts-wrapper .widget__product-buy-link-btn" ); }, function (res) { for (let button of res) { button.addEventListener("click", () => { gtag("event", "Buy button click", { event_category: "Shopping Module", event_label: `${button["href"]}`, }); }); } } );
buyButton.start();
var imageShopp = makeMonitor( function () { return document.querySelectorAll( ".shop-sidebar.shop-posts .posts-wrapper .widget__head a" ); }, function (res) { for (let image of res) { image.addEventListener("click", () => { gtag("event", "Image click", { event_category: "Shopping Module", event_label: `${image["href"]}`, }); }); } } );
imageShopp.start();
var productTitle = makeMonitor( function () { return document.querySelectorAll( ".shop-sidebar.shop-posts .posts-wrapper .widget__headline .widget__headline-text" ); }, function (res) { for (let product of res) { product.addEventListener("click", () => { gtag("event", "Product title click", { event_category: "Shopping Module", event_label: `${product["href"]}`, }); }); } } );
productTitle.start();
});
window.REBELMOUSE_ACTIVE_TASKS_QUEUE.push(function(){
window.REBELMOUSE_STDLIB.loadExternalScript("https://s.skimresources.com/js/150311X1615657.skimlinks.js", function() {
});
});
window.REBELMOUSE_ACTIVE_TASKS_QUEUE.push(function(){
let modDate = new Date (document.querySelector('.current--post .social-date-modified__text').textContent); let createDate = new Date (document.querySelector('.current--post .social-date__text').textContent); let m_names = new Array("January", "February", "March", "April", "May", "June", "July", "August", "September", "October", "November", "December");
function dateToMDY(inputDate) { var d = inputDate.getDate(); var m = inputDate.getMonth(); var y = inputDate.getFullYear(); return '' + m_names[m] + ' ' + (d <= 9 ? '' + d : d) + ', ' + y ; } document.querySelector('.current--post .social-date-modified__text').innerText = dateToMDY(modDate); document.querySelector('.current--post .social-date__text').innerText = dateToMDY(createDate); }); window.REBELMOUSE_ACTIVE_TASKS_QUEUE.push(function(){ !function(f,b,e,v,n,t,s){if(f.fbq)return;n=f.fbq=function(){n.callMethod?n.callMethod.apply(n,arguments):n.queue.push(arguments)};if(!f._fbq)f._fbq=n;n.push=n;n.loaded=!0;n.version='2.0';n.queue=[];t=b.createElement(e);t.async=!0;t.src=v;s=b.getElementsByTagName(e)[0];s.parentNode.insertBefore(t,s)}(window, document,'script','https://connect.facebook.net/en_US/fbevents.js');fbq('init', '1248680838922690');fbq('track', 'PageView'); }); window.REBELMOUSE_ACTIVE_TASKS_QUEUE.push(function(){ window.REBELMOUSE_STDLIB.onElementInViewport({ threshold: 400, selector: "video", oneTime: true, onIntersect: function(entry){ var element = entry.target; element.setAttribute("allow","autoplay"); element.loop = true; element.muted = true; element.autoplay = true; element.setAttribute("playsinline","true"); //element.controls = false; element.play(); } }); }); window.REBELMOUSE_ACTIVE_TASKS_QUEUE.push(function(){ let headings = document.evaluate("//p[contains(., 'Want more stories like this?')]", document, null, XPathResult.ANY_TYPE, null ); let thisHeading = headings.iterateNext(); console.log(thisHeading.textContent, 'head changed'); thisHeading.innerHTML = "More From Coveteur"; thisHeading.style.fontFamily= 'Playfair Display'; thisHeading.style.fontSize="24px";
});
window.REBELMOUSE_ACTIVE_TASKS_QUEUE.push(function(){
IcreateElementChangeListener('.shop-posts .widget__headline-text', (el)=>{
el.setAttribute("rel","nofollow");
});
});